Vrikshasana yoga: The practitioner of Vrikshasana has to stand upright like a tree. The Sanskrit term 'Vriksha' means 'tree' and the word 'asana' refers to the yogic posture.
Methodology of Vrikshasana Yoga Asanas
Stand upright.
The feet will have to be kept together.
The knees will also have to be straight.
Keep the arms on the sides.
Without bending the left knee pick up the right foot.
Grasp with your tight hand the right hand.
Fold the right leg at the knee joint.
Now press the right sole at the inside portion of the left thigh.
The right toe should be pointing downwards.
Keep the folded leg at right angle to the upright leg.
Both the thighs must be in alignment.
Balance your body only on the left leg.
Join the palms and bring them to the middle of your chest. Keep the fingers pointing upwards.
Without moving the hands slowly lift them overhead.
The arms must be bent slightly.
Stand straight and erect.
Look straight ahead and remain relaxed.
Maintain your balance.
Remain in this position for about 10 seconds.
Slowly lower the hands to the middle portion of the chest.
While returning to the starting position, lower the right leg.
Repeat the sequence with the left leg as well.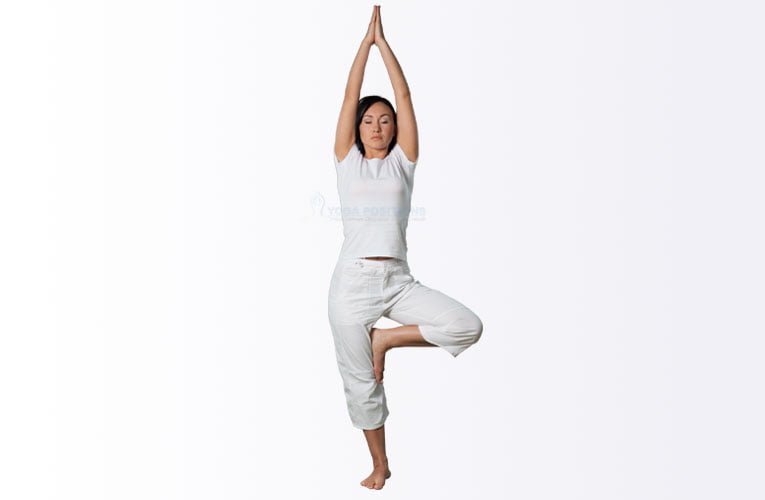 Advantages of Vrikshasana Yoga
You will gain neuromuscular coordination.
Rheumatic pain and numbness of the legs will be cured.
This asana strengthens the feet ligaments, tendons and the arches.
Vrikshasana tones up your leg muscles.
The pelvis is loosened.
Regular practice of Vrikshasana makes the ankles, knees and the legs flexible.