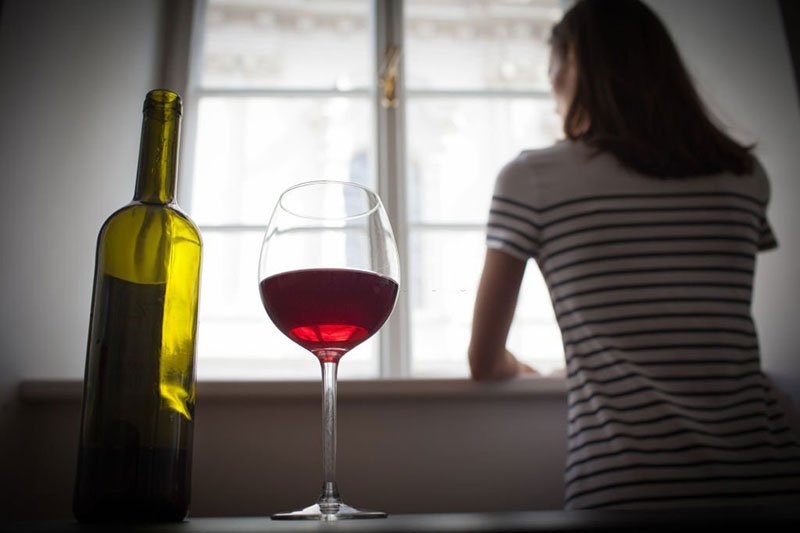 Alcohol Addiction Treatment: If you're having difficulty coping with challenges in your life, and feel you need alcohol to relax, you may have a drinking problem. Likewise, if consuming alcohol is the only way you can feel good, it's time to reconsider the path you're on. Alcohol abuse and dependency have ruined countless lives. Moreover, the havoc and devastation caused by your drinking can affect those around you, including your family.
A lot of people recognize that they have a drinking problem, but are hesitant to enroll in an alcohol abuse treatment program. Some think that such programs are overly-regimented. Others believe they can overcome their addiction on their own. Still, others are loath to divulge their problem to strangers. Given these concerns, is it possible to recover from alcohol dependency without enrolling in a formal treatment program? Read on for four alternatives that can be effective for select individuals.
Option 1: Seek Therapy From A Psychologist
Speaking to a counselor or psychologist can prove helpful in coping with alcohol dependency. The mental health expert can help the patient determine why he or she drinks. The counselor can also help the patient identify the triggers that produce his or her cravings for alcohol and the situations in which drinking is a likely outcome.
This type of therapy can prove useful for uncovering emotional issues that are contributing to the individual's tendency to drink. However, it does not address changes that occur to the brain's chemistry when the patient becomes dependent on alcohol.
Option 2: Consult Your Family Physician
A person's regular physician may be able to offer limited assistance with regard to overcoming alcohol addiction. But it is important to realize that very few family doctors are trained or experienced in providing such help. They can sometimes prescribe medications that reduce the severity of the symptoms associated with alcohol withdrawal syndrome (AWS). But even here, they are likely to be limited by a lack of knowledge and experience.
A full-service alcohol treatment program will involve a personalized treatment plan, ongoing monitoring of the patient's progress, and the use of pharmaceutical drugs to control withdrawal symptoms. It will also focus on cognitive behavioral therapy with the goal of preventing relapse after the initial stages of the program are completed. Family physicians are seldom prepared to offer this level of support.
Option 3: Enroll Into Alcoholics Anonymous
This option is one of the most effective for those suffering from alcohol abuse. Substance abusers can take advantage of meetings at which they'll interact with other alcoholics. The meetings are free, and attendees can choose to remain anonymous if they desire.
Alcoholics Anonymous is so popular that the meetings are held in every major city throughout the week. Members are encouraged to share their experiences with the group. This helps other attendees feel more comfortable and realize they share a similar problem. Accountability is a critical part of the overall AA program, and members are encouraged to meet with fellow alcoholics.
Attending AA meetings does not involve many of the key components of a full-fledged alcohol abuse rehabilitation program. For this reason, struggling alcoholics will gain the most value from the meetings after they have completed an individualized treatment plan at a licensed rehab clinic.
Option 4: Speak With Your Pastor Or Priest
One of the bulwarks against drinking for many alcohol abusers is that person's devotion to his or her spiritual or religious faith. An individual's religious beliefs often preclude drinking as a harmful or immoral act. As such, the alcoholic, even while coping with an uncontrollable urge to consume alcohol, may be less inclined to do so.
For this individual, it may be helpful to seek counsel from his or her pastor or minister. The conversation should remain confidential and address the individual's alcoholism. Ideally, there should also be an element of accountability.
Note that, as with the options discussed earlier, the individual seeking to overcome his or her alcoholism is not undergoing a comprehensive treatment program. Thus, the long-term effectiveness of this option is questionable since it relies almost completely on the alcoholic's self-reliance from the outset.
To summarize, it is possible to treat alcohol abuse and alcohol dependency without the benefit of a formal alcohol treatment program. But realize that many key aspects of beating a substance addiction are neglected, or completely ignored, by such options.
The author has written on the subject of substance abuse for many years. She is currently working on the http://www.fccr-va.com/blog to educate and inform about the dangers of alcohol and drug abuse. Hope you love reading "Is Self-Treatment Possible For Alcohol Addiction?". Share your view in the comment section below.