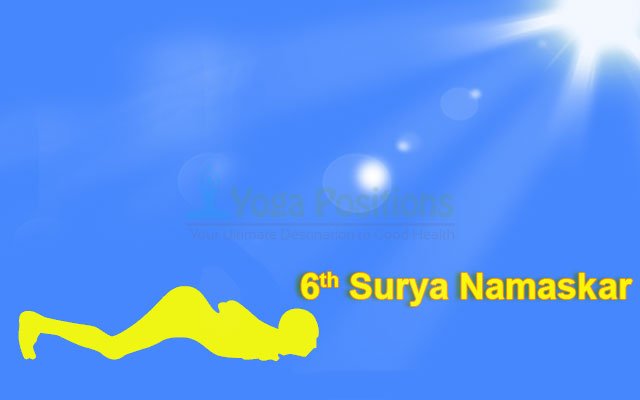 Now, you are about to conclude the first half of the 12 Surya Namaskar postures.
The sixth position includes the Sashtanga Namaskar pose.
Only eight portions of your body touch the ground in this position.
They are your forehead, chest, toes, knees, and your palms.
Methodology The 6th Surya Namaskar
As you remain motionless properly balancing your body, slowly but deeply inhale (The third breath).
In the meantime, your toes and hands are still being firmly placed on the floor.
Remember that you cannot move the palms from their positions.
Also keep in mind that you'd have to balance your body on the toes and put pressure on the forearms.
After completing the inhalation process, hold the breath for just three seconds and then slowly start the exhalation process.
While breathing out, slowly lower your body to the ground. Here's how you should do it. But do follow the sequence:
First, bend your knees and the elbow;
Then, slowly lower your knees followed by the upper abdomen, the forehead and finally the chest.
When you start the body lowering process, your body must be rigid.
Try to place your forehead at the maximum point possible on the ground.
But your lower pelvis and the abdomen must be kept at the highest point possible away from the ground.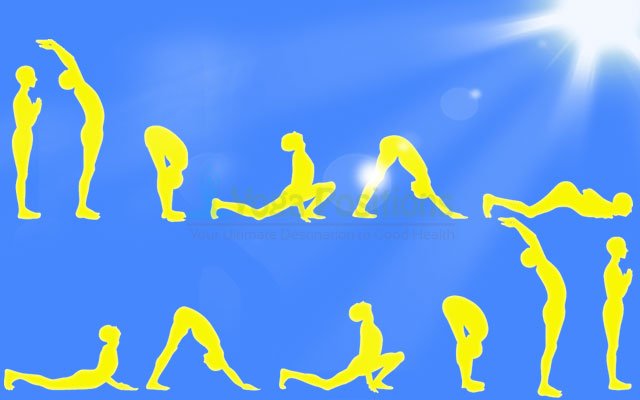 Those having flab on their abdomen may find this posture rather difficult. The sagging fat in the abdomen area may pose problems. However, they can draw in their abdomen while keeping their lower abdomen and hips above the floor.
Place the palms on the ground on the respective sides of your chest.
Raise the bent elbows and keep the arms close to your sides.
Without moving the feet, keep them in a perpendicular position.
Only your curled up toes must be touching the ground.
Draw in the abdomen and complete the exhalation.
Hold out the breath for a few seconds remaining in the same position.
Allow your muscles to slacken.
Summing Up
Let's now sum up certain important aspects pertaining to this posture:
One, your palms must lie flat on the ground beside the chest;
Two, the body should lie prostrate on the floor
Three, the abdomen must be drawn in;
Four, the lower abdomen has to be slightly raised from the ground;
Five, the hips should be raised from the floor.
Advantages
The entire body gets energized.
The leg and wrist joints get straightened.
This position also has positive effects on the abdomen, forearms, back, and the upper arms.