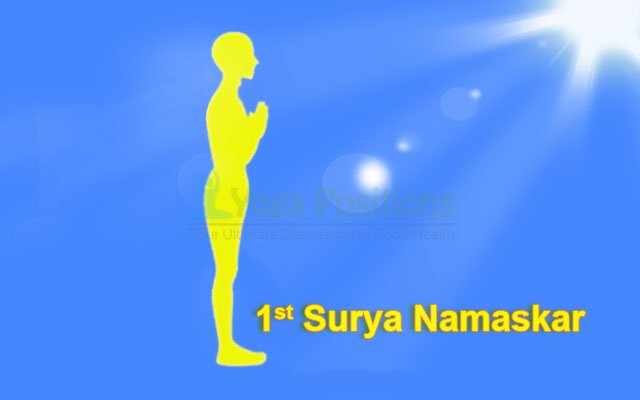 Taking Position The 1st Surya Namaskar. This is the commencing position. Assume a calm and prayerful mood. Prepare to pay obeisance to the Sun.
Positioning the Limbs
Look towards the East. Stand straight on your seat (mat/carpet/blanket).
Both your feet must be on the same level and about 12 centimeters apart.
Keep your arms close to your body. They must be kept straight down.
Ensure that your knees are stiff. The back portion of your head must be in the same line as your back and heels.
The abdomen needs to be drawn in. Raise the chest.
Bend your arms and place your hands before the chest. It should be in a prayerful gesture.
Lightly join together both your palms. The palms should be turned upwards.
The fingers must be stretched out. They must point upwards.
The thumbs as well as the fingertips of both the hands must touch each other.
The thumbs should be touching the middle portion of the chest. The elbow up to the forearms should be in alignment.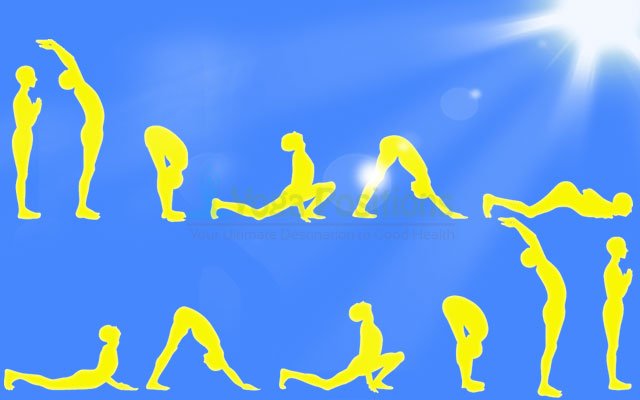 Commencing the Namaskar
Look ahead. Don't open the mouth. You must be well placed or balanced while standing.
Exhale.
Breathe normally.
Condition your mind in such a way that your body is relaxed.
Now, worship the Sun.