Can one do the postures in random order?
Unfortunately, No! One cannot do the 12 postures in a random order. On the contrary, one must practice the 12 Surya Namaskar postures in the sequence from Posture-1 onward. Hence, it's important that as you start practicing the positions, you also memorize the sequences.
Actually, Surya Namaskar can be practiced in several variations. It is so very dynamic in nature.
The one dealt with here combines breathing with the Yoga Asanas.
You can also draw up an illustrated chart showing the position sequences. Then, paste the chart at eye level in the room where you exercise. This step will help you to memorize the sequences fast and easily.
Surya Namaskar includes 3 Yoga Asanas
Every Surya Namaskar posture includes the principles of three yogic Asanas, viz., Talasana, Pada Hastasana and Bhujangasana.
Is there any easy means of Co-ordination?
The easiest means of coordinating the breathing and movements is to do them as recommended. No doubt, one may encounter problems in the initial stages. But, as one practices the positions regularly, one will be able to coordinate and synchronize the movements with the breathing strategies or cycle.
When should women not do Surya Namaskar?
Women should refrain from doing the Surya Namaskar postures during the periods and also when they are pregnant. However, they can readily do the exercises once they return to their normal state of physiology.
The easiest way to memorize the breathing cycle
Simple. Just remember that you should inhale while bending backwards and exhale while bending forwards.
The position-cum-breathing chart
Here is the 12-fold Surya Namaskar position-cum-breathing cycle. You will notice that Positions 1 & 12; 2 & 11; 3 and 10 are identical. You will also notice that inhaling is done six times: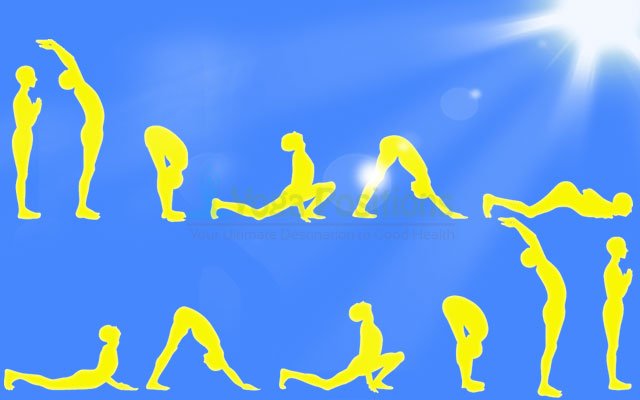 Stand straight and exhale completely.
Inhale. Simultaneously, stretch the arms overhead. Hold the breath for about five seconds. (1st breath)
Bend forwards as far as possible without straining yourself. Exhale.
Move the right leg backwards even as you inhale. (2nd breath).
Now, move the left leg backwards to the position of the right leg, and exhale.
Lie down on the floor. Inhale. (3rd breath).Then exhale as you lower the body. Hold the breath while remaining in the position.
Head and trunk are to be raised on arms. Inhale. (4th breath).
Take the inverted 'V' position. Exhale.
Bring forward the right foot. Inhale. (5th breath).
Bring forward the left foot. Bend ahead as much as possible. Exhale.
Stretch the arms overhead while you inhale. (6th breath). Hold the breath.
Stand straight. Exhale.